EVENaBAG | A SHOULDER BAG WITH 4 FUNCTIONS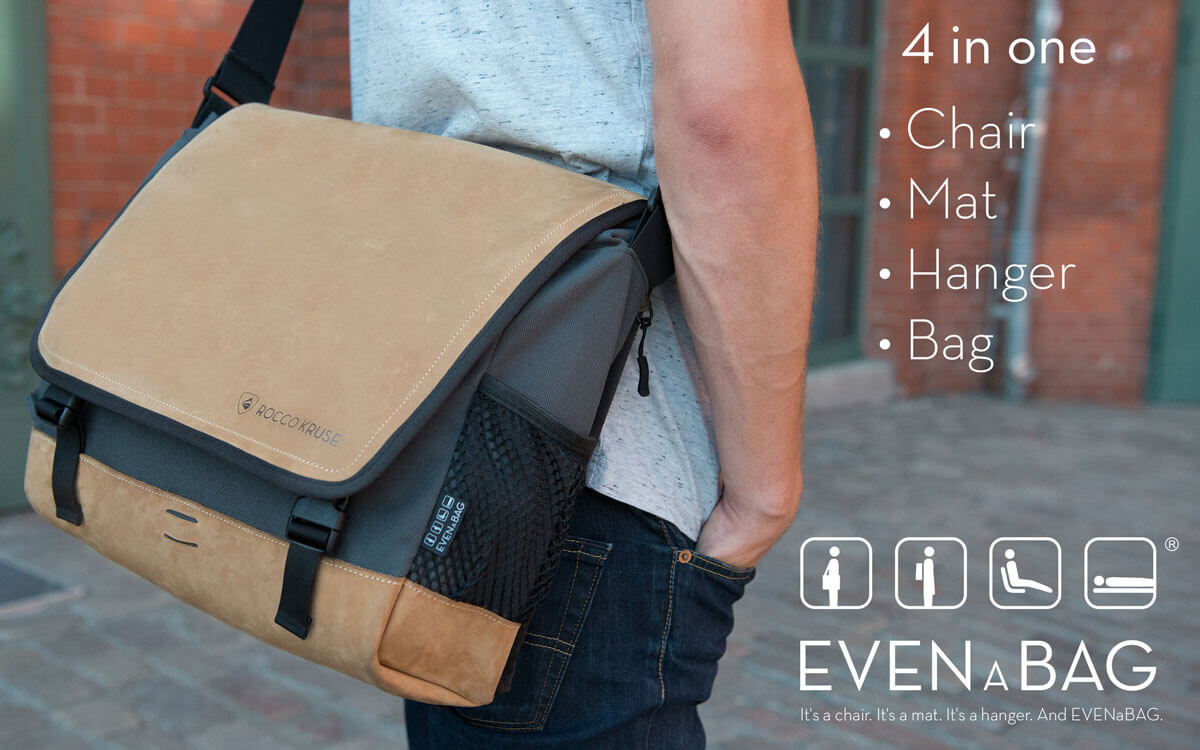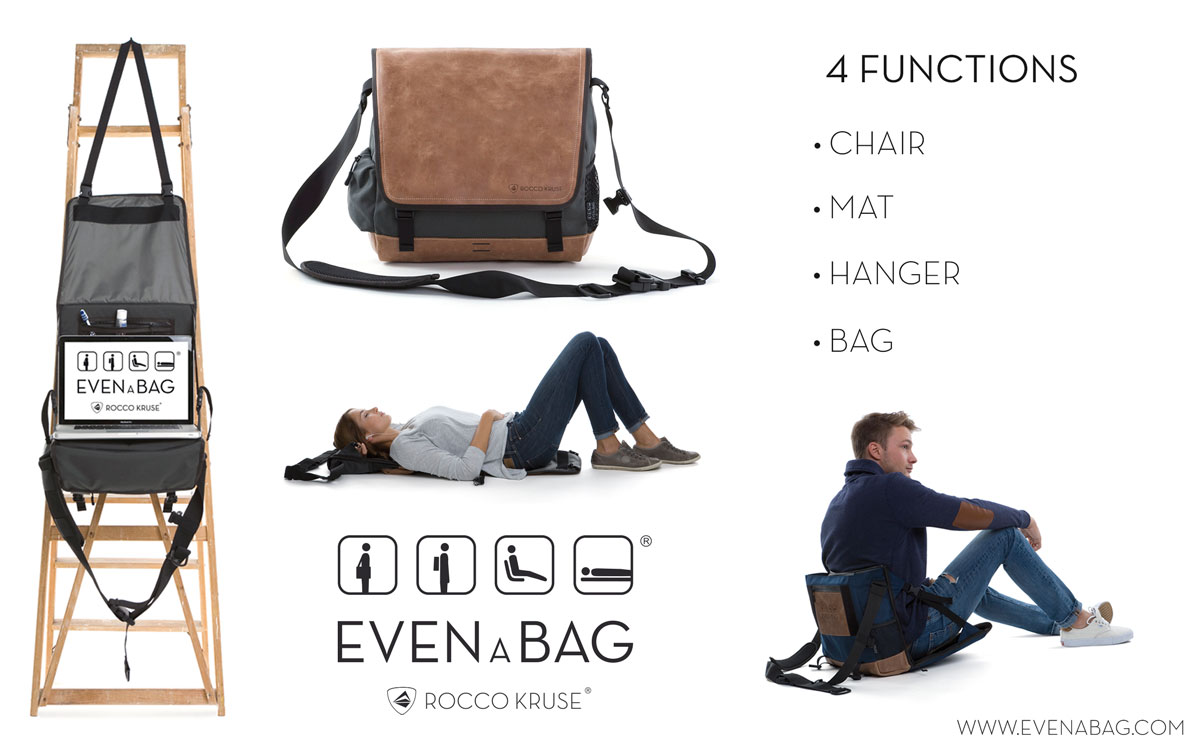 The unique quality of EVENaBAG is that it is multifunctional. It can be used as camping seat with backrest, a picnic mat & blanket, and even a hanger with convenience for laptop usage while on the go, while first and foremost it is a stylish shoulder bag! A Chameleon on your back, EVENaBAG is the perfect companion for everyday life.

It's a chair. It's a mat. It's a hanger. And EVENaBAG

Chameleon on your back
The EVENaBAG shoulder bag changes shape! This all-purpose shoulder bag is made to fit all walks of life and is the perfect companion for the office or simply enjoying the outdoors. Today's lifestyles demand more flexibility and spontaneity so you can change plans at a moments notice. Life is complicated enough, EVENaBAG is here to help keep it simple.

How can one bag keep it simple?
Well, imagine that you're at the airport your flight is delayed and your phone is dying. The only available power outlet is not in the seating area and you are forced to sit on the floor. What if you had a camping seat to support your back? And what did you sleep on that night when that delayed flight was later cancelled? Hanging out with friends after work or on the weekend? Had to sit in the itchy grass at a soccer game, picnic or concert? Wished you had had something comfortable to sit on? Get the idea.
Use it as a folding seat
Relax knowing you can relax! Simply fold the rear bag wall back, fold the shoulder bag cover inwards and lean back on the padded surface. The tear-resistant and washable CORDURA* guarantees versatility and enables prolonged use.

For all Parents and Babies
EVENaBAG is perfect to use as a diaper bag. Most diaper bags don't consider the needs of the parent. We designed a unique and versatile bag concept that is multifunctional. You can use the fold out mat not only for a diaper change but as a seat with a backrest or simply as a picnic mat. The seat and the mat can be extended by folding out the bag's cover and offers enough space to swaddle a baby. All baby clothes and essential items are at your fingertips at all times.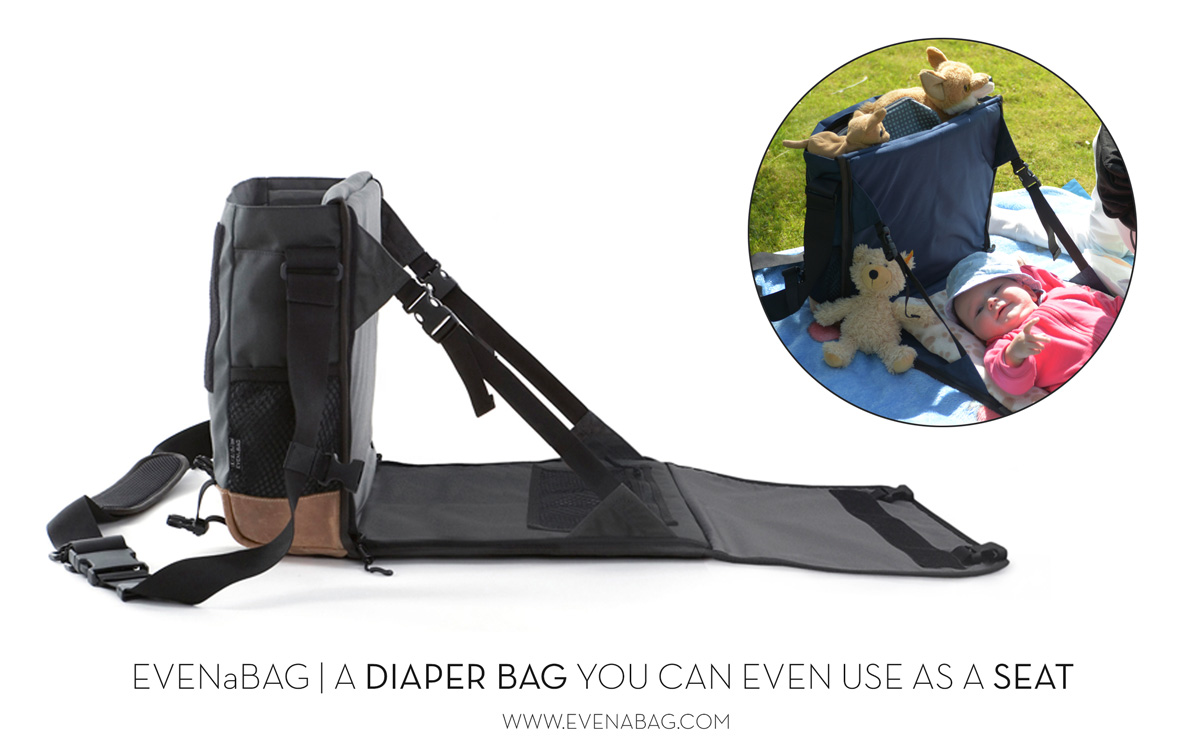 Use it as a mat
You want to lay down when outdoors? Simply unfold the bag completely by releasing all straps. A comfortable padded 1 meter (39,4 inches) length provides a relaxing place to rest and enjoy the outdoors. This is a perfect picnic mat and blanket.

Use it as a hanging toiletry bag
It even hangs! An additional function strap turns EVENaBAG into a hanger so you can conveniently sort, organize and store items, no matter where you are. Hang it on a door frame, a tent pole or even a tree when camping. Be it stacked, folded, ironed or rolled – instead of carrying it, hang it.

Use it as a bag
Enjoy EVENaBAG for it's main feature! As a durable, high quality shoulder bag that can carry everything from your laptop and other electonic devices to your toothbrush and PJs for overnight trips.
Additional Safety Feature
To comply with safety standards, EVENaBAG includes an additional adjustable/removable chest strap. To use, tighten it across your chest so the bag won't move while riding your bike, hiking or simply walking down the street.
Interior:
Designed with 2 large main compartments, an outside pocket, mesh organizer as well as an additional pocket for the extra strap. Included inside the bag is a leather accessories holder with metal ring, to fix your key-fob, as well as an additional large pocket.

SPECIFICATIONS:
Material:

resitant CORDURA, genuine leather
Use:

versatile with 4 functions, multi-purpose use for indoor and outdoor, suitable for laptops up to 15″
Dimension:

(HxWxD) 14.2″ x 15″ x 5.1″
Weight:

1690g /3.70 lb
Volume:

17L / 17 liters
Components
EVENaBAG is made of soft genuine leather, with visible white seams and stamped logos. Tear-resistant CORDURA* reinforced bag to ensure excellent stability. Strong stitching to keep the bag robust, in combination with water-proof materials in four different colors complete EVENaBAG.